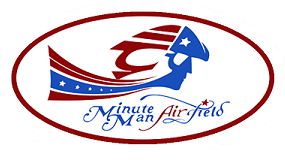 SPRING 2017 NOTAM 'SPRING' 2017 NOTAM
YOU ARE INVITED
TO OUR ANNUAL 'Take Off Party'!
MONDAY MARCH 27th, 2017 at 7 pm
APTIS AVIATION CLASSROOM
NORTH HANGAR
Hosted by:
EAA Chapter 196, APTIS AVIATION
and

Nancy's at the Air Field
Special guest speakers will included:
State Representative Kate Hogan and
MDOT-Aeronautics Division's Executive Director Jeff DeCarlo
making a special presentation of a paving repair grant to the airport!
Airport owner Don McPherson will bring all up to date on the many good things happening at the airport.
Other invited guests include:
State Senator Jamie Eldridge,
State Representative Jenn Benson,
Stow & Boxborough Selectmen
and our many airport tenants, users and friends.
Yummy Refreshments will be served by Nancy's

–

Cash Bar
Catch the 'Minute Man Spirit' at one of our events this month.  No cure is known!
~~~~~~~~~~~~~~~~~~~~~~~~~~~~~~~~~~~~~~~~~~~~~~~~~~~~~~~~~~~~
Boosting the
ECONOMY
                              Serving the
COMMUNITY
                                                        Nurturing the
ENVIRONMENT

since 1969!

Latest Posts NOTAMMar 24th, 20170 comments
Don's Blog

The airport is owned and operated by Don McPherson. In addition to Don's expertise obtained through over 40 year of running the airport, our operations are overseen by a board of Airport Commissioners. We have a strong team of local business, government, and aviation professionals who voluntarily serve as our Commissioners, helping us to achieve our vision of Boosting the Economy, Serving the Community, and Nurturing the Environment.

Latest Posts

Upcoming Events

There are no upcoming events.