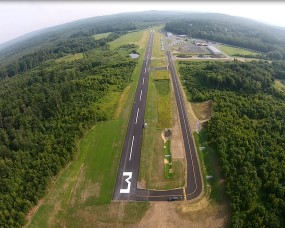 '3/21' Repaving Project COMPLETE!!!
The hill is gone, the '3' Runway Safety Area (RSA) is FAA compliant, the runway is newly paved end-to-end and the southern 1/3 of the taxiway is newly paved to FAA standards. Fly in soon – it's guaranteed to put a smile on your face!
Ribbon Cutting & 46TH Birthday Celebration
Please join us, help cut the ribbon dedicating our newly paved runway and enjoy some cake and ice cream at 4 pm Thursday, July 9th at Nancy's. You'll have a chance to say "Thank you" personally to the folks at MASSDOT, our legislators and town officials who made this project possible. We hope to see you then!!!
Nancy's at the Air Field
Closed for summer break from Monday, June 29th – Tuesday, July 7th.
Join 'Nancy's Gang' on the terrace August 7th for a 'Taste of Gin' event!
Operation Office
Closed Saturday & Sunday, July 4th & 5th.
This is a good time to sign up for 24 hour access to our fueling system.
E-Mail or call OPS for details.
T-Hangar Update
Our next (third) 10-unit T-Hangar now has five firm reservations.
We have begun the design/permitting phase (May – August).
We anticipate beginning construction in September.
We anticipate occupancy before cold weather sets in.
DMcPherson@minutemanairfield.com for an information/reservation flyer NOW!!!
---
Catch the 'Minute Man Spirit' at one of our events this month. No cure is known!
---
Boosting the
ECONOMY


Serving the

COMMUNITY


Nurturing the

ENVIRONMENT

since 1969!

Fuel Price Latest Posts NOTAMJun 28th, 20150 comments
Don's Blog

The airport is owned and operated by Don McPherson. In addition to Don's expertise obtained through over 40 year of running the airport, our operations are overseen by a board of Airport Commissioners. We have a strong team of local business, government, and aviation professionals who voluntarily serve as our Commissioners, helping us to achieve our vision of Boosting the Economy, Serving the Community, and Nurturing the Environment.