Massachusetts Statewide Airport Economic Impact Study Update
EXECUTIVE SUMMARY JANUARY 2019
To better understand the economic benefits of Massachusetts' public-use airports, the Massachusetts Department of Transportation Aeronautics Division completed Airport Economic Impact Study updates in 2011 and 2014. This study is a continuation of that overall planning effort that began in 2009 with the Massachusetts Statewide Airport System Plan (MSASP), which examined the structure and long-term development of the Statewide Airport System as a whole. The 2019 Economic Impact Study will serve as a specific update to the previous economic studies to show how aviation propels the economic growth of the Commonwealth, as well as documenting some of the many other benefits that air transportation brings to its host communities.
Promote aviation throughout the Commonwealth, while establishing an efficient, integrated airport system that will enhance airport safety, customer service, economic development, and environmental stewardship.
— MassDOT Aeronautics Division Mission Statement

Source: https://www.mass.gov/files/documents/2019/03/25/AeroEcon_ImpactStudy_January2019.pdf
The Massachusetts Public-Use Airport System
Massachusetts' system of public-use airports is comprised of nine commercial service and 30 general aviation airports, 11 of which are privately owned and operated. Minute Man Air Field (6B6) run by Don McPherson is privately owned and operated, and is now for sale.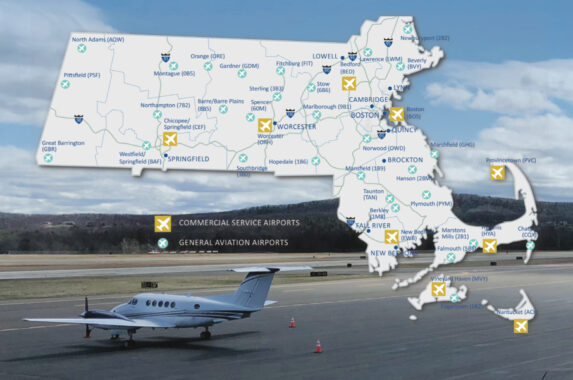 Massachusetts' 39 public-use airports offer a competitive business advantage. Overall, for every $100 spent
by aviation related businesses, an additional $56 is created as a multiplier impact that boosts spending, payroll, and employment benefits improving the quality of life in Massachusetts for all its residents.

https://www.mass.gov/files/documents/2019/03/25/AeroEcon_ImpactStudy_January2019.pdf
How Aviation's Benefits Are Quantified
MEASURES OF ECONOMIC IMPACT
Employment – Employment is the measure of full-time equivalent jobs, where two part-time positions are the equivalent of a single full-time position. Seasonal jobs are treated proportionally as appropriate.

Payroll – Payroll represents the costs associated with the annual salary, wages, and benefits earned by all the full-time equivalents measured under employment.

Output – Output is the quantity of goods and services generated annually by an airport and its associated activities and businesses, expressed in dollars. Output is estimated using an organization's annual sales, or its annual operating costs, which assumes that its output is approximately equivalent to what it expends.
MEASURES OF ECONOMIC IMPACT
Direct Impacts – Direct impacts account for the initial point where the money from aviation-related activity enters the economy. On-airport direct impacts can be found at the airport while visitor-related direct impacts take place off- airport.

Multiplier Impacts – Multiplier impacts result from the re- circulation and re-spending of direct impacts within the economy. This re-spending of money can occur multiple times. For example, as airport employees spend their salary on clothing at a local retailer, those expenditures circulate through the economy, resulting in increased spending, payroll, and employment throughout Massachusetts.

Total Economic Impacts – Total impacts are the sum of all direct and multiplier economic impacts attributable to an airport or the system of airports.
Minute Man Air Field (6B6) is privately owned and operated by Don and Nancy McPherson; for Sale
Minute Man Air Field (6B6) is privately owned and operated by Don and Nancy McPherson. As the McPhersons move towards retirement, they are proactively executing a succession plan with the hope of identifying the next property owner who will continue the airport operation. This timely and thoughtful approach increases the likelihood that the airfield will continue to operate and protect the interests of those agencies who have already contributed financially to the airport. This plan will enlist support and assistance from private individuals and local, state and federal agencies in order to locate the next owner of the airfield property.
Minute Man Air Field has a strong community of pilots and non-pilots alike including the Towns of Stow and Boxborough, local farmers, and tenants. In addition to Don's expertise, obtained through over 40 years of running the airport, our operations are overseen by a board of Airport Commissioners. We have a strong team of local business, government, and aviation professionals who voluntarily serve as our Commissioners, helping us to achieve our vision of Boosting the Economy, Serving the Community, and Nurturing the Environment.

Help us spread the word within your aviation circles that there is an airport for sale in Stow, Massachusetts!
~An open letter to the greater Minute Man Air Field Community concerning the Airport for Sale
~Read more about the History of 6B6: Minute Man Air Field History
~Read the Press Release: Minute Man Air Field Owners Seek the Next Steward for Airport
For more information contact:
Don McPherson at (978) 897-3933
dmcpherson@minutemanairfield.com
Minute Man Air Field, 302 Boxboro Rd., Stow, MA 01775