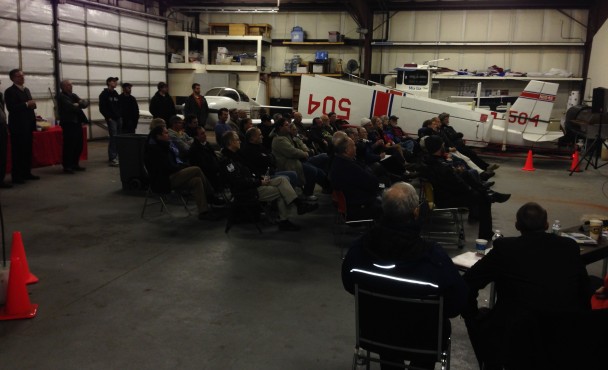 "BEST" FUEL PRICE as of 2/1/14 – $4.99*
RECORD TURNOUT FOR ANNUAL 'Kick Off' PARTY!
Over 60 Airport Customers, Rotarians, Vendors, Pilots, Aspiring Pilots, Café Patrons, Farmers, Friends & Neighbors braved the cold outdoor temperatures, crowded into the warm South Hangar, enjoyed Nancy's version of Coney Island Hot Dogs, and each other's company. They came to hear that the state of the airport is "Good" from owner/manager Don McPherson, that the Rotary Club will be hosting 'Wings and Wheels' again this year from club President Laura Spear, that pro-aviation legislation has much support in the State House due to aviation's positive economic impact from Representative Kate Hogan, that Avidia Bank is happy to be financing upcoming airport improvements from President Mark O'Connell and that Steve Budd from Pepperell won this year's FOMA contest and a $50 gift certificate from Nancy's at the Airfield for Landing at All Mass Airports in 2013. The highlight of the event was the signing of contracts by Don McPherson and Chris Willenborg, MDOT-Aeronautics Division Executive Director, for state funding of engineering services with Stantec Consulting, which will ultimately lead to repaving Runway 3/21 this spring!
TINKER, TAYLOR, BUILDER, PILOT is a new group that has 'formed up' at Minute Man. They meet at Nancy's at 11 for brunch, socializing and resource sharing on the 3rd Saturday (2/15) of each month. If you're a builder, tinkerer or just change your own oil, stop by to meet others of like mind!
NANCY'S at the Air Field will be OPEN 8 – 3 President's Day, 2/17.
The 'IMC CLUB' MEETS on the third Tuesdays (2/18) in the Magenta Flight Training classroom at 7pm. Their monthly meetings help develop safety and proficiency in their members by using real world 'Scenario Based Learning'. All are welcome to this free event, regardless of your rating.
February's Full Moon Fly Out Set for Tuesday 2/ 11 – Sunday 2/16. We will return to the '121 Restaurant' at the Waterbury-Oxford Airport in CT. The food is great and it couldn't be more convenient. I-495, I-290, the Mass Pike and CT-84 are close by on your left on the way down and the view passing over Hartford is breathtaking. Park right in front and hop inside. You can pick up menus in the OPS Office to get a better feel for what's in store for you. This is my new 'Go TO' fly-out restaurant – join us this month and make it yours, too! Watch for a notice on which day to go.
'IFR ALTERNATE' – if the WX doesn't cooperate for our 'Full Moon Fly Out', we will meet at Carbone's Italian Restaurant in Hopkinton at 7pm, Thursday 2/13. This based pilot owned spot is perfect for our 'southern gang' to gather and enjoy each other's company. Go-No/Go info will be on 978-897-3933.
X-C SKIING AT MINUTE MAN – All Pilots (Security Badge required) and their guests are welcome to ski on our groomed trails for free anytime we are open. Check in at the OPS Office. Join us and discover a new way to enjoy our aviation environment!
*The 'BEST FUEL PRICE' is subject to change during the month when a new fuel shipment starts flowing.
Catch the 'Minute Man Spirit' at one of our events this month. No cure is known!
~~~
Boosting the ECONOMY
Serving the COMMUNITY
Nurturing the ENVIRONMENT since 1969!
NOTAMFeb 11th, 20140 comments