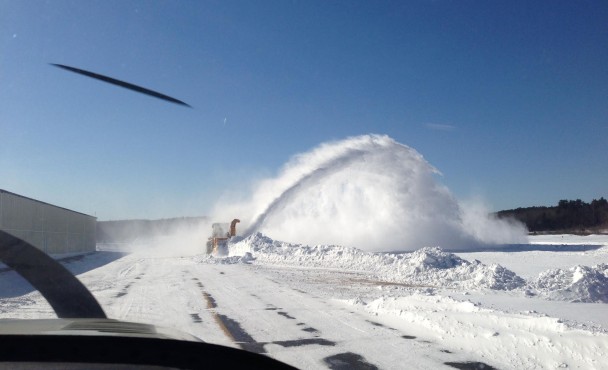 February's "Best" Fuel Price –
$3.79!!!
---
Our annual 'Kick Off Party' was a roaring success with nearly 100 folks enjoying our warm hangar, yummy food and captivating speakers. Please see Nurturing GA published by AOPA for the whole scoop. Thanks again to all who attended – participated and especially Friends of Minute Man Air Field and Nancy's at the Airfield for hosting!
Permitting continues for Runway '3/21' – Repaving Project – Phase II – Our public hearings will be held as follows: Erosion Control – Planning Board at 7:30pm on Wednesday, February 11th; Order of Conditions – Cons Com at 8:45pm on Tuesday, February 17th. These hearings will be held in the Stow Town Building, 380 Great Road, Stow. Come early to get a front row seat. Your participation can help us move this public process over the goal line. You do not have to be a Stow resident to attend and be heard.
The 'IMC CLUB' MEETING will be held in the Magenta Flight Training classroom on Tuesday, 2/17 at 7pm. Their meetings help develop flight safety / proficiency with 'Scenario Based Learning'. All pilots are welcome!
TINKER, TAYLOR, BUILDER, PILOT will meet at Nancy's at 11am on Saturday, 2/21 (third Saturday) for lunch, socializing and learning. If you're a builder or a tinkerer or just want to know how to change your own oil, stop by. Scott Gordon is installing a 2-axis autopilot in his RV-7. Visit him in the South Hangar East after lunch and help 'supervise'!
Nancy's at the Air Field is accepting reservations for their 'Valentine's Dinner' on Friday and Saturday, February 13th and 14th. Get details here. Come celebrate with Nancy and her knowledgeable, friendly staff!
Our 'Wintah Slogan' is "The Fastest Snow Plow in the Northeast!". Next time you visit us, notice not only when we are fully operational, but also how wide we plow the runway and taxiways. Our 'long winged' visitors need not worry here. Feel free to call Don's mobile number (978-621-5122) for up-to-the-minute field conditions or to let us know your ETA or ETD.
A word about fuel prices: The above price, effective 2/10/15, is the lowest in recent memory. Based on my weekly wholesale price updates, you can expect this low price through March, at a minimum. Now all we need is good WX so we can all take advantage of it! Sun 'N' Fun is on my planning horizon…
Catch the 'Minute Man Spirit' at one of our events this month. No cure is known!
---
Boosting the

ECONOMY

– Serving the

COMMUNITY
Nurturing the

ENVIRONMENT

since 1969!
Fuel Price Latest Posts NOTAMFeb 10th, 20150 comments