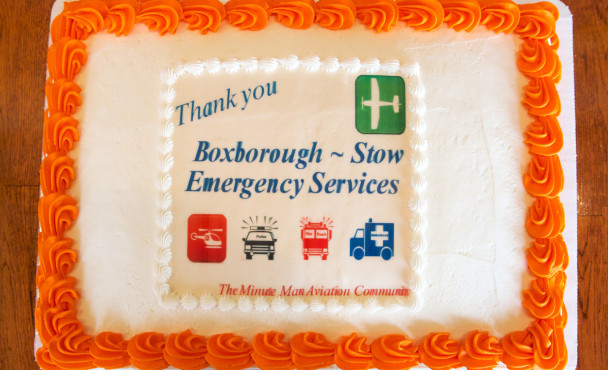 EVERYONE is invited to our annual 'Kick Off' Party!
(Airport Customers, Rotarians, Pilots, Aspiring Pilots, Café Patrons, Farmers, Friends & Neighbors)
Hosted by 'Friends Of Minute Man Air Field' (FOMA) & Nancy's at the Air Field
Thursday, January 23rd, 2014 at 7pm
South Hangar East – enter @ Magenta Flight Training
The festivities will include the 'State of the Airport' by Don McPherson, 'Wings and Wheels' wrap-up by Laura Spear, Rotary Club of Nashoba Valley President and 'W&W' Committee Chairman, state aviation overview by Chris Willenborg. Executive Director, MDOT – AD (invited), aviation legislative overview by State Representative Kate Hogan (invited), introduction of new EAA 196 officers and presentation of 'LAMA' awards by Greg Sheets of FOMA and Nancy.
Refreshments by Nancy's
Door Prizes – Cash Bar
NANCY'S at the Air Field will be OPEN 8 – 3 Martin Luther King Day.
The next 'HANGAR TALK' breakfast social hosted by FOMA will begin at 8:30 am Saturday 1/4 at Nancy's.  Planning will continue for their Winter Kickoff Party in the South Hangar on January 23rd, the 'FOMA Club House' and next summer's 'Fly-In / Drive-In' events.
The next 'IMC CLUB'  MEETING will be held in the Magenta Flight Training classroom on Tuesday, 1/21 at 7pm.  Their monthly meetings help develop safety and proficiency in their members by using real world 'Scenario Based Learning'.  All are welcome, regardless of your rating.
January's Full Moon Fly Out Set for the 13th  – 19th.  We will return to the '121 Restaurant' at the Waterbury-Oxford Airport in CT.  The food is great and it couldn't be more convenient.  I-495, I-290, the Mass Pike and CT-84 are close by on your left on the way down and the view passing over Hartford is breathtaking.  Park right in front and hop inside.  You can pick up menus in the OPS Office to get a better feel for what's in store for you.  This is my new 'Go TO' fly-out restaurant – join us this month and make it yours too!  Watch for a notice on which day to go.
TINKER, TAYLOR, BUILDER, PILOT is a new group that has formed up at Minute Man.  They meet at Nancy's at 11 for lunch and socializing on the third Saturday (1/18) of each month.  If you're a builder or a tinkerer or just want to know how to change your own oil, stop by.  All are welcome!
*The 'BEST FUEL PRICE' is subject to change during the month when a new fuel shipment starts flowing.
~~~
Catch the 'Minute Man Spirit' at one of our events this month.  No cure is known!
            Boosting the
ECONOMY
Serving the
COMMUNITY
Nurturing the
ENVIRONMENT

since 1969!

NOTAMJan 4th, 20140 comments