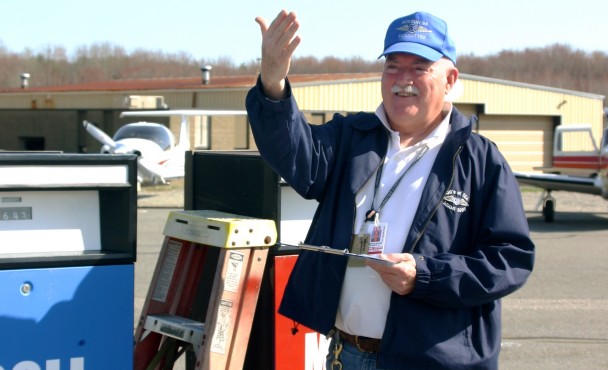 "BEST" FUEL PRICE THIS MONTH $5.39!
——————————————————————————————————————-
Spring came early, then left us out in the snowy cold! Check out a 'cool' video of our snow blower in action on our FB page, then be sure to 'Like' us. On the bright side, our daffodils and tulips have re-emerged from the snow drifts; 'Mud Season' is behind us. RNWY 12/30 has firmed up and is now open for operations. Watch for birds checking out your cowlings (and other openings) for nest sites!
FOMA's 'LAMA' Contest, ('Landed at All Massachusetts Airports') rules and entry forms are ready for pick up in OPS. All successful contestants will receive a $50 gift certificate for dinner at Nancy's. Explore each airport, maks new friends, fill your 'flying stories' book chock full of new adventures!
Get ready to have some fun! www.EAA196.org will meet in the flight school classroom at 7pm on April 1st. All are welcome.
Real World Design Challenge is a national effort associated with high school STEM educational programs. Marlborough High School students will be receiving their 1st place award Tuesday morning April 2nd at Jet Aviation at BED. MassDOT's Steve Rawding will be visiting Minute Man later this month to explain how the program works and how local pilots can help. Watch for a date/time notice.
NANCY'S at the AIR FIELD – WILL BE OPEN ON PATRIOT'S DAY for your dinning pleasure. Visit www.nancysairfieldcafe.com for details on this month's schedule, specials and events. The Sherry & Whisky Tasting-Food Pairing event in March was well attended and enjoyed by all. Also, Nancy's 'wood fired, thin crust, pizza making oven' has arrived from CA as a kit. We will assemble it post haste followed by a week-long curing process. When it's ready, Nancy will be baking off 'tons' of pizza. She is looking for brave folks to 'taste' it while she perfects her new craft. Sign up now. Yum!
The 'Cruise In/Fly In' (CI/FI) Committee is making great progress towards the 12 week event starting June 6th. Sign up at OPS to show your plane, lead tours, or provide safety/security. This sure-to-be fun community outreach activity will make everyone a winner! Get involved today.
www.minutemanairfield.com will be refreshed 'any day now', thanks to volunteer Commissioner, Jim Baum and others. Watch for this new tool designed to tell the story of General Aviation and 6B6.
General Aviation Day at the Statehouse will be held on May 13th. Save the date, plan to join our Commissioners there and help promote what you love with our state legislators.
The Massachusetts Airport Management Association (MAMA) is organizing this event. FLY IN & SKI at www.sundayriver.com. for as long as it lasts. A great day trip or spend the night.
Our Full Moon Fly Out April 22th – 28th is great for introducing folks to GA. Consider inviting a fireman, policeman, selectman, reporter, state rep, or senator to go. You can spread the word about the benefits of GA while having a good time. Call OPS for our destination. Wheels up at 5:30.
——————————————————————————————————————————
Catch the 'Minute Man Spirit' at one of our events this month.  No cure is known!
——————————————————————————————————————————
Boosting the
ECONOMY

, Serving the

COMMUNITY

, and Nurturing the

ENVIRONMENT

since 1969!

Fuel Price NOTAMApr 2nd, 20130 comments